| | |
| --- | --- |
| Sowa has developed a line of balanced CNC tooling manufactured with a modified standard drive slot to properly equalize the weight. This change in tool design enables GS Tooling to meet tolerance machine spindles are made to. GS 40 Taper Tooling can run up to 20,000 RPMs (.0002"TIR) without putting unneeded stress on the machine spindle. Balanced tooling includesEndmill Holders, ER, TG, DA Collet Chucks You will also find a selection of ER Collets , TG Collets, DA Collets and Milling Collets. Tap Chucks & Collets,Taper Adapters, Right Angle Heads, GS Vises and Accessories. | |
Search all Sowa Only Items by Part Number:
100% Online! Download the Whole Sowa Catalog here!

New!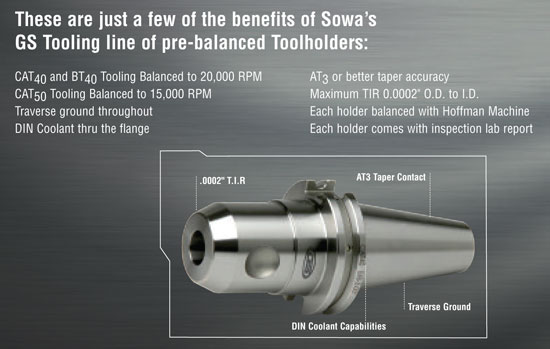 Click here to and Check out our High Performance Taps from Japan!