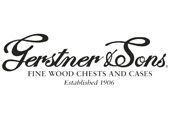 Tradition of Excellence in USA Designed Products Since 1906
When you purchase a Gerstner Tool Chest you make an investment in yourself and in your tools. A Gerstner USA Chest is built with carefully selected hardwoods and veneers that provide a moisture-free environment for the proper storage of your precision tools. Even after a lifetime of daily use, a Gerstner Chest often maintains a value equal to or greater than its original cost.
H. Gerstner & Sons was founded on the belief that a journeyman's reputation is built upon the professionalism that he brings to his work. Gerstner Tool Chests always have and will continue to be used by men and women who take great pride in their work, their tools and their professionalism. We believe that each and every wood chest we build is a keystone in our reputation. We take great pride in our people, our products and the many professionals we serve.
Gerstner International Tool Chests
Gerstner & Sons is proud to offer it's customers economically priced wood products and tool chests built to a benchmark of quality that will proudly uphold the Gerstner name. These are the Gerstner International tool chests. Imported and only available through authorized dealers, Suncoast Precision Tools is an Authorized Dealer.
Gerstner & Sons - Wooden Tool chest Factory Tour