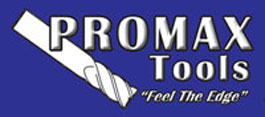 PROMAX Tools Mission
At PROMAX Tools, we are committed to achieving excellence. Our mission is to manufacture and distribute premium performance carbide cutting tool products that satisfy customer requirements and expectations 100% of the time. Through a philosophy based on continual improvement, innovation and teamwork, PROMAX Tools represents superior quality in products and services to the entire cutting tool industry.
We place a primary focus on quality assurance. By establishing, implementing and maintaining a comprehensive management system based upon the ISO standard, we enable all members of our team to understand and meet customer's requirements. Our quality management system concentrates on providing:
Defect free premium cutting tool products and services.
State-of-the-art manufacturing, process control and inspection equipment.
Quality products and service as well as satisfying our customers is at the foreground of every decision we make.