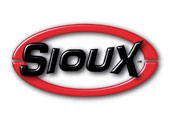 About Sioux
A legendary USA-made brand of power tools established in 1914 to support the growing production and manufacturing needs of an expanding America. SIOUX is relentlessly focused on engineering better solutions to help tool users hold, use and maintain their power tools. As a result SIOUX power tools last longer and work harder in manufacturing, repair and assembly operations. Over the years, tens of thousands of tool users have been part of the growing legacy of SIOUX power tools ensuring that the products are built to withstand the toughest working environments. Today, if it Protects, Transports or Powers around the World, SIOUX power tools are likely part of the team that builds it.
COMMITTED TO YOUR SUCCESS
For over 100 years, Sioux Tools has been providing tools that have been designed and built by the best engineers in the country. We use only top-quality materials in our manufacturing process, and we offer the strongest support and warranty in the business. Our over 100 patents are an indication of our innovation in product development and design.
Sioux Tools are built tough to provide you with many years of trouble-free service. But as with any piece of equipment, service problems can occur, thus Sioux tools are designed to make servicing quick, easy and affordable.
To help ensure fast repairs, which in turn limit downtime, Sioux Tools offers training seminars that cover all the details of the tools we make.
About Sioux Tools Video