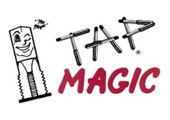 About Tap Magic
In 1953, we created the first in a line of incredible cutting fluids: Tap Magic. From this single fluid we developed a complete line of versatile, precise, lubricated cutting fluids that will meet the demands of any modern machinist or fabricator.
During our over 60 years of experience, we have invested countless time and ongoing effort into continuous research and development to create the best cutting fluids on the market. We are able to do this because we understand our customers, our products, and the applications that each and every job needs.
We are never satisfied with being the premier name in cutting fluids today; we are constantly innovating and thinking outside the box to evolve every product in our superior line. That is why we are the category leader for changes in regulations, processes, and technical applications.
We at the Steco Corporation believe that our products should not only be the best when it comes to practical applications in machining and fabrication, but also in being environmentally friendly. That is why we have added several eco-friendly cutting fluids to our lineup. They are just as tough and versatile as our other cutting fluids, but they have the added benefit of being biodegradable, low smoke, and low odor, keeping our environment healthy and safe.