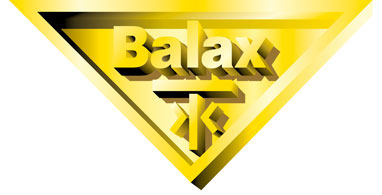 About Balax
For five (5) decades, Balax Inc, has been designing and manufacturing quality Thredfloer Cold Forming Taps and Thredshaver Cutting Taps in North Lake, Wisconsin. All our products are manufactured utilizing in-house operations that include blank making, heat treating, shank and square grinding, fluting, thread grinding and surface treatment. Balax operates its factory three shifts, five days a week in order to provide prompt delivery.
A BALAX, INC. GUIDE TO TAPPING IN THE 21ST CENTURY
At Balax, we recognize the increased demands placed on our customers for improved quality and lower production costs. To accommodate these needs, you will find in this catalog new generations of high performance tools that will lead to "least cost tapped hole" by providing increased tool life, less machine downtime, and better thread quality. This catalog reflects our commitment to serve our customers by providing skillfully engineered, high quality, state of the art products made in the USA.
Balax is fully equipped to evaluate your future tapping projects and to help you make the decision whether to cold form or cut thread your part. Working with your part prints and actual material being tapped, Balax will provide you with the correct recommendation for pre-tap hole size, tapping torque, tapping speed, and tap lubrication. Based on all of this information, Balax will design and manufacture the optimum tap that will allow you to successfully production tap your parts from the very beginning.