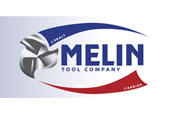 About Melin
Melin Tool also provides many different value adding features:
All tools are CNC finish ground.
Inventories are sufficient to ship orders usually the same day.
Complete line of carbide end mills ... including many high performance carbide tools
Most HSS tools are produced using M42 cobalt, but priced at M7 prices.
Certified quality system (ISO 9001:2000) to help insure tools meet or exceed your tolerances.
Excellent inventory of "in between" 1/64th sizes so that you can get the exact tool needed for the job.
Our extensive product line consists of thousands of standard tools. Many new high performance and specialty tools have been added or expanded in our latest catalog ... including a complete line of countersinks! Nearly all tools are available with TiN (titanium nitride), TiCN (titanium carbonitride), or AlTiN (aluminum titanium nitride) coating to minimize tool wear. Diamond and black oxide coating are also available by special request. Special end mill quotes can be submitted at any time.
At Melin Tool Company, it is understood that we will not prosper without complete customer satisfaction. Success at Melin is measured by how well we serve the customers who distribute and use our products.Quality is an attitude at Melin. It is an every day, every tool, every order commitment to supply products which meet or exceed all of the detailed specifications of our customers. Another major quality goal is to monitor and, where possible, improve upon the processes used to achieve this high quality.The management and hourly employees of Melin Tool Company will remain committed to this quality policy.Mike Wochna, PresidentMelin Tool Co.