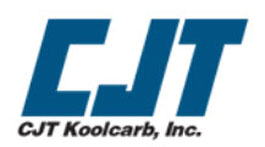 About CJT Koolcarb Inc...
CJT Koolcarb, Inc. manufactures the highest quality cutting tools available in the industry. The current catalog contains over 3,000 sizes of coolant and non-coolant fed solid carbide/carbide tipped drills, reamers and end mills available as standards with TiN, TiCN and TiAIN coatings. With the recent purchase of GenHam Industries, CJT Koolcarb has expanded their offering to include PCD (Polycrystalline Diamond) tools. PCD tools are rapidly becoming the standard for precise yet cost-effective cutting of exotic alloys used in aerospace, automotive and medical industries.
In our modern manufacturing facility, we maintain a stock of over 40,000 performance guaranteed solid carbide and carbide tipped drills, reamers and end mills. Experienced sales engineers are available to discuss and rapidly quote in application specific tool designs tailored to meet your special tool requirements.